interview
Dabs' 'Wormatic' LP Just Hits Different
- Amanda Chavez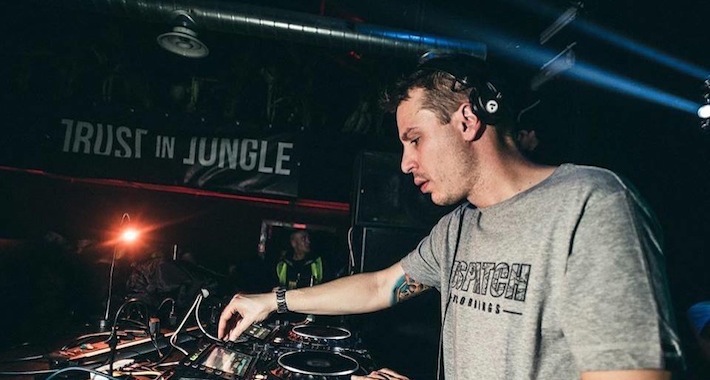 DJ/producer Dabs generates a widespread buzz with his freshly dropped debut album Wormatic on the enduring DnB label, Dispatch Recordings. Shaking things up from his homebase in Rome, Dabs' work has become a source of inspiration, providing a home for listeners with a sound that has also been showcased on Eatbrain and his own imprint, Avantegarde.
Coming at us with a kaleidoscope of soundscapes, Dabs unveils his juiciest beats to date on Wormatic, a body of work which took three years to complete. Now that he's had time to reflect on such a ceremonious release, Dabs (born Davide Rustici) has a chat with Bassrush about his busy day-to-day life, his production habits, and Rome club night Trust In Jungle.
We know you've been producing for well into 10 years now. Can you share a bit about how you got introduced to the world of music production and DJing?
I've been producing since I was a kid. I was 16 and I used to produce hip-hop beats for local rap groups. Hip-hop has always had a big influence on my musical roots. I started to write more breakbeats and down tempo before this slowly turned into the more electronic side of the music.
What was the first DAW you started off on and which one do you currently use?
I started on Cubase and I'm now using version 8. I always found it organic and representative of the current timeline. It's also very editable on the audio file. I've tried many other DAWs but none of them are like Cubase.
Congrats on your gigantic LP for Dispatch! Tell us about your relationship with the label over the years.
Thanks for that! Dispatch has always been a home for my music. I feel like the label represents my sound perfectly. You're free to express yourself and it represents the funk vibe in drum & bass very well. I've always been a big fan of Dispatch and working with Ant has been amazing. They've been giving me great opportunities since 2010, where I released my first track on the label, a collaboration with Cern.
Wormatic is a big showing, how did you approach putting together such a large project?
The Wormatic LP was a big project which I started three years ago. I went back and forth with Ant, and considering I'd written three EPs before on Dispatch and this was supposed to be another EP, I decided to write a full album instead. I wanted to do a bigger project which represented me more artistically.
What should fans expect musically?
Even though I haven't been releasing much music over the past two years the LP has been well received by my fanbase. I'm really grateful and I'm happy with it. Fans can expect something which really represents my sound and isn't just following trends. I'm just doing what I always did, whilst making it more complex and varied, but still on that techy and funky vibe!
Having your music available on vinyl is a rare and special opportunity these days with digital-only formats being quite the norm. Have you received your copy yet?
Releasing on vinyl is always a pleasure! Having the physical copy in your hands…it's such a special vibe and feel. This time it's going to be special because I followed the whole project, even on the artwork and packaging side, which match with the colors of the two vinyls. My copy is due to arrive any day now!
I'm really happy with the artwork; it's from Cortisol Kid, who is a writer and tattoo maker from Leeds. I got in touch with him and started to see his work and he designed some t-shirts for Dispatch a few years ago. I gave him a lot of hints about elements I wanted to include in an abstract but allusive composition (i.e. worms, eyes, mountains and speech-bubbles). I enjoyed what he came up with!
Did you ever collect vinyl yourself? If so what are some of your most treasured records?
I began DJing with vinyl so I have loads at home. I'm most proud of my Ed Rush & Optical Wormhole LP. I have some Cypress Hill vinyl which shows that creepier, darker side which I really love. These I always listen to when I'm on my sofa; I don't necessarily play them in sets.
How did you first start working with Nymfo? We know you have worked together in the past, before "Walkman" and love what you two can come up with.
I always liked Nymfo's music and we started to collaborate ourselves on a single some years ago, where one of the tracks was made together live in his studio in Amsterdam while I was there to play a gig. We smashed through so many Oreos together, with a few beers too.
I'm just doing what I always did, whilst making it more complex and varied, but still on that techy and funky vibe!
A key element in your productions is the amazing percussion offerings. Are there any essential production tips to share when it comes to "gluing" a drum kit together?
I always love to write drums and program drum lines; it's probably the most fun part of producing drum & bass. It was the part I was the most inspired from. If I must give some production tips, I would use both funky breaks layered plus real drum elements melting them with each other.
Do you have any favorite (analog or digital) drum machines?
Addictive Drums. I'm not that into sequencer drum machines as I don't feel like they're that important to me. I love the classics, like Roland 909s, but drum and bass needs an organic need of real drums than many other bass music genres. I prefer to go with real drums and funky breaks for drum & bass.
Have you been listening to any new artists lately?
I listen to a lot of new promos and blood, MISSIN and Rizzle plus Neve from Italy, who's just recently released on Guidance (Ulterior Motive's label). They have got a nice vibe I like. There are loads of new producers out there right now though.
Do you have any plans to release new music on Avantgarde?
I have more plans to release on Avantgarde but I haven't had much time recently. It's something I have in the pipeline, with help from the guys in Rome at their Trust in Jungle nights, drawing together the events promotion team and the label.
Let's talk about your day-to-day life, what does a typical day look like for you?
I have a day job in an office, I work in marketing, so my days are really busy. Maybe I work eight hours on the marketing side and then I hit the studio at 7pm, maybe doing some mixing or mastering. When it comes to the weekend, I'm often playing out and it's really hectic at the moment.
Staying busy! Outside of music, what do you do like to do with your spare time?
What I love to do in my spare time is cooking. I spend a lot of time checking out gourmet dishes on Instagram. I'm very Italian in this!