music
Jayceeoh's 'Super 7' Mix Series Returns With a Vengeance on Volume 9
- Chris Muniz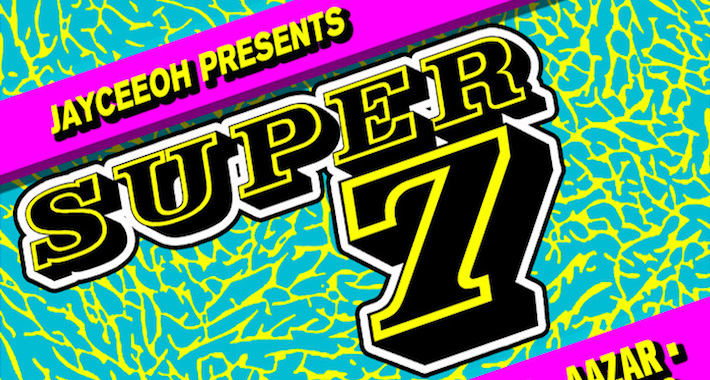 Insomniac Records locks in the ninth volume of Jayceeoh's beloved Super 7 mix series, which promises to be its most anabolic beast-mode selection yet. As with previous installments, Jayceeoh arranges a carefully curated lineup of bassbin killers, each of whom is given 10 minutes to flex their stuff on the decks. From trap to dubstep and everything in between, past volumes have been speaker-busting favorites that are sure to go down as legendary selections for some time to come.
Enter the ninth volume, and it's obvious the series still has plenty of fuel to toss into the fire. Featuring the likes of Herobust, 12th Planet, Pegboard Nerds, Riot Ten, Party Thieves, and Aazar, this veritable dream team of selectors pulls out all the stops in an effort to outdo each other with their own unique and inimitable style.
When asked about his own contribution to the cause, Herobust tells us he expects "all the mixes on here to go hard" and that his own selection features his "favorite doubles and mashups" that he's been dropping recently.
In addition to the heavyweight sound each DJ brings, the project ramps up the excitement by keeping each selector's mix a secret until the very end. 12th Planet tells us he's "stoked to be a part of this mix series with Jayceeoh and the crew" and "can't wait to hear the full mix."
Similarly, Riot Ten hints that he's been a fan of the series for a minute and has been eager to get involved in the proceedings. "I've been listening to these Super 7 mixes for a while now, and each time, they've been heat on top of heat. Stoked to be part of this monster lineup. Hype or die, boiiiii."
With the above in mind, strap on your crash helmet and buckle up for a wild ride, because Jayceeoh's Super 7 Volume 9 mixtape is about to rock your world.