interview
[Q&A] Keepin' It Classy with Gentleman's Club
- Amanda Ross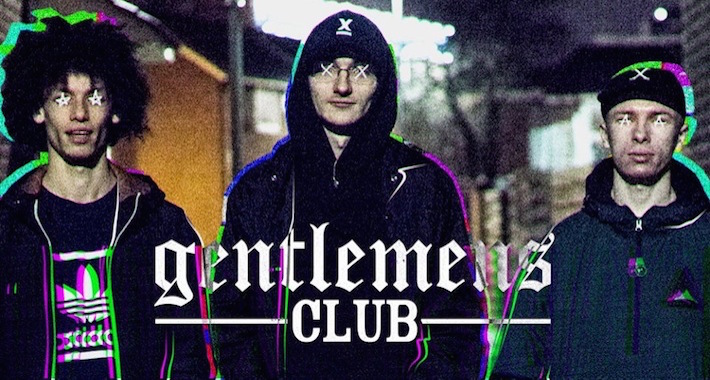 The unstoppable phenomenon that is Gentleman's Club (or GC for short) is comprised of three talented UK-based producers by the names of Soloman, Coffi and 50 Carrot. Having built their own solid reputations as individual artists years earlier, they officially united in 2013, bonding over underground vibes and low-end frequencies. "We kind of joined forces randomly to be honest," 50 Carrot candidly shares with Bassrush.
Due to huge success of their new series, Gentleman's Club Volume 1, we've seen Volume 2 make a huge impact with hits like "New Presidents" featuring Cali wordsmith Watson and a slamming remix from jump-up badboy Hedex.
We take a deeper look at their label mantra—"cheap beats for the masses"—and dive into what inspires the head nodding, highly addictive dubstep sounds that emanate from this crew.
We're not in this for a race to be #1 in the Beatport charts.
What are some of the influences behind the GC sound?
We are influenced by hip-hop and grime music. When not producing we tend to sit around and listen to artists such as Young Thug, Future, and President T. That's where we gain a lot of inspiration for our intros!
When did the three of you decide to create the Gentleman's Club?
It all started when we played in Belgium years back. We were all on the same lineup and it was the first time we'd met each other. We had a great show and we all got along so well­. After that, it kind of just fell into place. We didn't take it seriously for the first year or so until it really started picking up. When we realized people wanted to see all three of us play together around the world we started to think, "Oh shit, we could really do some cool things together."
And your motto, "cheap music for the masses"—where did it come from?
We started releasing music via our Bandcamp page so that we could keep the prices low, then started working on more music together; the idea of Gentlemen's Club just grew from there.
Do you feel like there's a stigma with releasing on Bandcamp?
Some people might look down on it but it just allows us to sell our music for cheaper directly to our audience. We're not in this for a race to be #1 in the Beatport charts. It's also just a great platform for independent artists such as ourselves; it's easy to use and we like the look of it!
The P0gman collabs on Vol. 2 are so tight. What makes you guys so compatible in the studio?
P0gman is a great artist. He's an amazing producer and an even more amazing guy. We all really get along with P0g so I think the fact that we can all joke around together helps the flow when we work on music with him. He's an extended part of the family!
"New Presidents" is such a big tune! Introduce us to the emcee, Watson.
"New Presidents" came around quite spontaneously. Coffi initially started the project off then sent the file to Soloman where he did his piece, leaving 50 to finish it off! We originally had no direction for the tune other than just making something for the mosh pits. We all agreed we needed vocals for the intro and Watson was the first person who sprung to mind! We had previously worked with Watson on other projects so we sent him the intro and within the day he sent back the vocals and they were perfect!
And Hedex's remix of it?
We have been fond of Hedex for a hot second now and we had been meaning to work with him on some music. Hedex actually hit us up asking to remix the tune and we simply sent the stems off­­; two days later we had the monster you hear today! We were super happy with the outcome and even happier with the reaction it's gained from the dubstep and drum & bass scene! We have plenty more collaborations in the talks with Mr. Hedex so keep an ear to the ground!
Do you have any collabs GC fans can keep on the lookout for?
Plenty, but unfortunately we can't really say much! We're always making new GC music together, working on EPs and various releases and free downloads for all of our supporters! As for news on collabs—that information will be revealed very soon so keep your eyes peeled!
If you guys had your own reality show, what would you name it and where would the location be?
This is a tough one. We'd have to go with something along the lines of Gentlemen's Club: Keep it Classy. Cheesy, but it suits us well! As for location, it would have to take place in many locations to be honest. We'd want to be followed on our adventures around the world and give people an insight into the stupid stuff we get up to! We've kind of started our own "reality show" on our YouTube channel. They're more tour vlogs but we're putting them out as episodes so definitely check that as well!