music
[RECAP] Uprising Awakens the Bass Within
- Amanda Ross
With the hype for this show buzzing for quite some time, the marriage of drum & bass, dubstep and trap blended into one unforgettable event. The blinding strobes and immersive, wraparound LED screens adorning the next-level stage made the DJ booth feel like a portal to another dimension. And in usual Bassrush fashion, the Palladium was outfitted with enough low-end, frequency pushing speakers to disturb even Sunset Boulevard passersby.
Bassrush residents Definitive drew in an impressive crowd with a set chock full of exclusives and heavy interjections of gritty jump-up sounds. Not long after, P0gman went on to wreck shop in his first Bassrush appearance, blasting the crowd into oblivion with a merciless onslaught of dirty dubstep, wonky riddims, and swagged out drops. Keeping the floor jumping and shouting in unison while his logo blasted our retinas on the giant display, P0gman was certainly a crowd favorite.
Friction brought immense drum & bass energy, serving up a full-spectrum set of tech, rollers and jungle. Cut after cut from the Shogun assassin murked the many D&B-craving bass heads. Friction's visuals were beyond epic, and were expertly executed during his explosive performance along with random inflatable's flying above the crowd.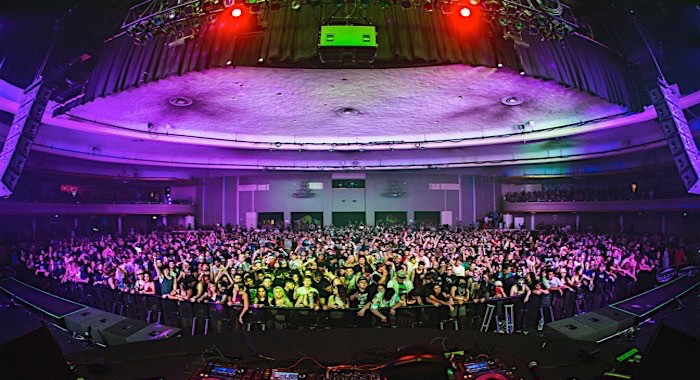 "I'm Eptic, let's do this shit," signaled the arrival of none other than Never Say Die's golden boy. With blatant approval from the crowd, he went on to drop a nasty detuned bassline that completely melted our skulls. Mesmerizing graphics littered the circular screen as bass seared through the venue, making this one of our favorite sets of the night.
Next up, LOUDPVCK stirred the crowd into a complete frenzy with what seemed like endless amounts of never-before-heard tracks, dirty four-on-the-floor, and trap-tinged beats. The sweaty blend of multi-genre rhythms kept the vibe thick and the floor pumping.
As the night progressed, Brillz brought the filth and showed everyone that the master of Twonk always has a few tricks up his sleeve, dropping in plenty of heat—including "Move Dat," his freshly released collab with JVST SAY YES—and loads of dirty gyrating trap. The blazing LEDs were in complete synergy with his set, leaving minds blown and energy levels at full capacity.
Last year, Bassrush was the first to bring you the epic pairing of Caspa and Rusko. This time around the two UK dubstep dons went even harder, bringing down the house with plenty of old-school wobbles and straight-up dubstep classics. All in, Uprising was a night of total bass euphoria, and we can't wait for the next massive to tear through town.