interview
Riot Ten Prepares to Annihilate Los Angeles
- Bianca Silva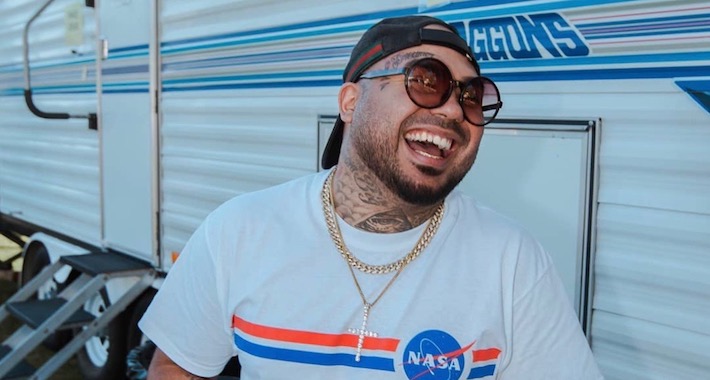 As the genre of bass music continues to grow, more and more artists are flourishing in this ever-evolving creative arena. Among these artists lies the Texas native bass music destroyer Riot Ten, who comes from humble beginnings since his introduction in the production world at only 15 years old. Over the years, his approach to music production and creative contributions have certainly blossomed and earned him countless releases on some of bass music's finest imprints ranging from Bassrush Records, Firepower Records, and most recently, Dim Mak Records. As he wraps up another fruitful year, Riot Ten has proved that there is every indication that 2019 will be even bigger and better!
Ahead of his highly anticipated stop in Los Angeles this weekend with Blunts & Blondes, HE$H, and Krimer, we chatted with the man behind the hype about his Hype or Die: Genesis EP, his LA show, and what else is in the works. If you haven't grabbed your copy of his latest EP, grab it here—and while you're at it, grab tickets to his LA show hitting the Belasco this Saturday!
How's life treating you lately?
Life has been great! Shows have been selling out and been so much fun. Been meeting tons of amazing fans. Honestly, so excited right now.
You've been traveling like crazy and getting the opportunity to play your music all around the world. How has that been?
Well, not gonna lie it's pretty taxing, but I wouldn't trade it for anything in the world. It's been a dream come true and something I've worked toward for years. It's not always the easiest being away from family and my two sons, but they know what I'm working for. They mean everything to me.
Do you have a favorite place you've visited so far? If so, where and why?
Honestly, I couldn't name a favorite. So many amazing places, crowds, venues, promoters. Outside of the US, I did love Brussels. Beautiful city and was my first time visiting this year. I wish I could have stayed a few more days.
Let's get into your latest body of work, Hype or Die: Genesis EP. Tell us a little bit about the story behind this project!
Honestly, I just wanted to put together my hardest EP to date with music that embodies my live show and performance. Hype or Die has become a way of life. It's what is expected of me. The fans know that my shows are not for the faint of heart.
What has been the vision of the project from start to finish?
Pure energy, fun, catchy vocals, with a dark and aggressive embodiment. Music doesn't always have to be "complex" to be good, and often it's the most simplistic songs that translate, and the most complex that don't.
You've said that this has been your favorite body of work that you've put out, what about this EP is so special to you?
I think I really nailed the sound I wanted for the project. I was very satisfied with every track and it was the first EP I've made where I play all the tracks out live. This EP was definitely designed to be performed in front of a live audience.
There are a few collaborations with vocalists across the project and a collaboration with Krimer. How did those come to be?
I've been a fan of all the artists for a while and wanted to find a way to include them. I really think our styles and sounds work well together, and I'm friends with all of them as well. There's nothing better than working with good people on music. As for Krimer, I brought him on tour this year so it made sense for us to work on a couple of songs together.
Hype or Die has become a way of life. It's what is expected of me. The fans know that my shows are not for the faint of heart.
I love the album artwork! What is the story behind the photo that you used?
We wanted to go a different route with the art as we primarily go with skulls and dark graphics. We thought it would be cool to play on the Nas Illmatic artwork theme and use a baby photo of myself as the catalyst, while still incorporating dark and apocalyptic scenery. Not many artists in EDM actually use self-images on artwork, which is pretty interesting and polar opposite to most other genres of music. So I went through my mom's old pictures and found a few that I liked. The title of the EP is Genesis also, so it's so sort of insinuating the beginning of the next chapter so to speak. We'll see what's next!
How did the relationship with Dim Mak begin?
I love the entire team at Dim Mak like family. Not only have they been supportive, but they genuinely get the vision and what we are trying to accomplish. While we worked together on a couple of earlier songs, I think our relationship really spawned at the birth of "Rail Breaker" last year. They just got it and knew the potential it had to become one of the most played out records of the year. Since then, we've now released two full EPs in 2018 and around 14 songs together.
Do you have a favorite track off the EP?
I know it sounds corny, but they're all my favorites. I honestly couldn't pick one in particular.
What is your favorite part of touring?
Meeting new fans is probably my favorite part. Second favorite part is eating different food. (Laughs)
We're stoked to have you in LA this weekend! What are you looking forward to most about playing LA?
The fans. Los Angeles goes so hard all the time. It's one of my favorite cities to play in the world hands down and this is actually my first time headlining my own tour here. I'm kind of nervous to be honest.
You've got support from Blunts & Blondes, HE$H and Krimer. What goes into the process of choosing your supporting artists for tour?
I consider all of these guys homies. That's most important. I also personally really like their music. I wanted to create something special for LA, which is why I'm bringing all three for this show. It's going to be straight chaos from start to finish!
Is there anything else you've got up your sleeve that you can share with us?
Well, I've always brought out a special guest or two in this city, so I guess we'll have to wait and see what's in store!
Before we wrap things up, are there any last shout outs you want to give out?
Shoutout to Insomniac, Bassrush, Dim Mak, my managers and agency, my family, friends, supporters and last but not least my amazing fans for the continuous support. It means the world to me and I wouldn't be where I'm at without them. Can't wait to see everyone this Saturday at Belasco! Be sure to get your tickets before it's too late!