interview
SubDocta Roars into 2020 Like a Boss
- Chris Muniz
Capping off an epic year that saw the youngblood SubDocta come into his own as a bona fide G in the bass music world, 2020 is looking to be even more hectic and exciting for the West Coast Wobble king. From being tapped to support Ganja White Night on his "The One" tour all the way through to the stunning success on the release front including his Swonkle EP, CBDB EP, and of course his foray into Bassrush Records land with "Clapback" and "Torqued."
With the dust still settling off the Swonkle Remixes EP that dropped earlier this month and festival dates including EDC and Electric Forest locked in for 2020, we figured it was the perfect time to touch base with the man himself for a proper Q&A. As if that wasn't enough, SubDocta is unleashing his highly anticipated Oh H*ck EP on Boogie T's Drama Club imprint today so lock yours in here and check the technique of the one and only SubDocta below:
You're obviously coming off a massive year! Have you had time to take it all in and enjoy the success? 
Thanks! It still feels so surreal but it really hit me when we finished the Ganja White Night tour and I had some time off to reflect. I live in Reno and I was able to spend some time going out to the wilderness with my friends and my dog Jasper to relax in the river and unwind. It's great to spend time with my friends and family but I'm also excited to get back on the road and perform for my fans!
That road grind is really where it's at for you this past year isn't it? Supporting GWN was just the icing on the cake I'm sure.
It was a very busy year where I got to play some amazing headline shows across the country and some of my favorite festivals, including Wakaan and Lost Lands. And ya honestly being on all 30+ dates of the Ganja White Night tour was so insane. I've always looked up to those guys and loved their music, not just GWN but also Boogie T and Jantsen, so to be a part of that powerhouse of a tour still blows my mind. It definitely felt like we were all a family – artists, crew, everyone – which made the experience so much better. I never thought I would be having late night Mario Party sessions with some of my biggest inspirations [laughs]. We played a ton of huge rooms all over the country, but it was especially awesome to finish the tour with Bassrush at such an iconic venue as the Hollywood Palladium.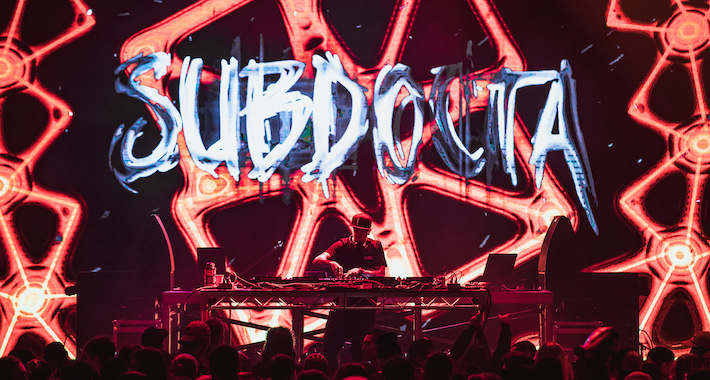 2020 is already off to a massive start – the Swonkle remixes just dropped on SubCarbon – give us the details how it all came together, who's on it and introduce us to the winners of the remix contest!
Yeah, I'm super happy I was able to get all those guys on board man, they crushed it so so hard, I really feel like they took the songs to new levels. Stratus, Tyro, Brightside, Notixx are all homies and so talented plus we had Wubbaduck from Germany and Soundtrooper both win the contest. The original plan was to just pick one winner but they both crushed it so hard I couldn't choose and ended up going with both!
It must feel good to already be in a position to give back to the community and support up-and-coming producers. When you look back on your own career so far is there anyone you credit with showing you some love early on and helping you get to where you are today?
100% credit goes to Dirt Monkey. He showed my music to his agent (Shoutout Jake @ UTA), who ended up signing me AND introducing me to my managers. They both really changed my life and I couldn't be more thankful. And ya it does feel good to help other artists when I can, I mean what's the point of having a platform if you're not going to lift others up? It's not a contest, at the end of the day its art.
Also on tap is the Blunts & Blondes "The Hot Box Tour" you've been tapped to support all 47 dates of!! The tour kicked off a little over a week ago right? How's the tour so far and what essentials do you bring with you while on tour??
Whew that's a lot of dates I didn't even know the final number lol. It's been really good! I was really stoked when Mike (B&B) asked me to be direct support and we have Bawldy on as well. These guys are a fun crew and I'm excited to spend the next 2 months with them!
My tour essentials are Kor ginger shots, I swear they keep me alive. Also I take zzquil every night to sleep literally as long as possible. The biggest thing for me is not getting sick so I try very very hard to stay on top of vitamins, eating well, keeping a clean area etc.
The biggest news in your world has to be locking in two major festivals that have no doubt been on your wish list all along: EDC and Electric Forest. How did it feel when the word came through you were booked for these! Does knowing that these are looming on the horizon push you to create some special goodies in the studio?
Its super wild but honestly it doesn't really hit me until I show up to these festivals. So we will see how I feel when I show up and my jaw drops lol. It's hard for me to write on the road so once I get home from this tour its game time for sure. But I do have a lot of works in progress, including some BIG collabs that I'm hoping to drop in time for festival season – stay tuned!
Last but not least, we've got this sick EP dropping at the end of the week. It's a proper straight up wonky wobbling party starter but one of our favorites has to be "Ensorcell" since it harkens back to that exotic vibe of "Ederlezi Dub." Tell us how this one came together and what the title means!
Thanks! This EP is super fun I'm excited for it to come out. I've always been drawn to world music and different sounds, like with Ederlezi Dub (which flew way under the radar – that's actually my fav of mine.) I can't really pinpoint how it came together tbh but i did a lot of different versions and this was the one I liked best. "Ensorcell" is a verb that means to enchant or fascinate. I have no idea how i stumbled upon that word but its neat and i feel like it fits.
The entire EP feels lifted right out of the soundtrack for a movie – what kind of images does the EP conjure up for you on that front? What kind of story would they tell and what kind of world/genre would the EP fit with?
Wow that's the best description I could have ever hoped for honestly. What producer does not want to score a movie or show haha. Oh man this is a loaded question i honestly don't know how to answer this! Maybe some of you guys can let me know what you feel this conjures up.
That's it brother! Feel free to hit us with any shout-outs and give the fans a sense of what else should be expecting from you in the coming year!
I would like to shout out dogs for existing and making my world happy. Also of course all of you who continue listening and supporting me on every release, coming to my shows, buying merch, and allowing me to live this life of creation. ILYSM