interview
The Bass Music Takeover of EDC Las Vegas
- Bianca Silva
From Tiësto dropping some Ookay into the mix on the main stage to Drake's surprise appearance alongside Metro Boomin' at the bassPOD, this year's EDC will no doubt be remembered as the year that bass music launched an all-out takeover. With familiar bassheads like Slushii, NGHTMRE, Jauz, Ghastly, Slander, Getter, Ookay, Yellow Claw, Rezz, and Excision appearing on stages like the kineticFIELD, cosmicMEADOW, and circuitGROUNDS, the hard and heavy crew held it down for the bassPOD faithful with a range of sets from EDC first-timers to veterans we look forward to seeing every year.
Epic back-to-back sets opened and closed out the bassPOD each night while some jaw-dropping b2b pairings bridged the gap between sunset and sunrise. Phiso and Ponicz were one of the most impressive sets we caught this weekend as the pair balanced each other out perfectly with a wide range of vibes from energetic anthems like "Jotaro" to straight up riddim. Still, it was those sunrise sessions that really got the crowd moving. SKisM and Trampa closed the first night out with banger after banger of unreleased material including SKisM's remix of Barely Alive's "Experts," which had the whole crowd rocking in sync.
Barely Alive, Dubloadz, and Virtual Riot teamed up for a three-way b2b session on the second night and dropped some Disciple heat on the early morning crowd while Sunday night closed things out heavy with a Megalodon and Midnight Tyrannosaurus b2b that kept things extra heavy with the perfect mix of fan favorites and swampy, soul-crushing vibes.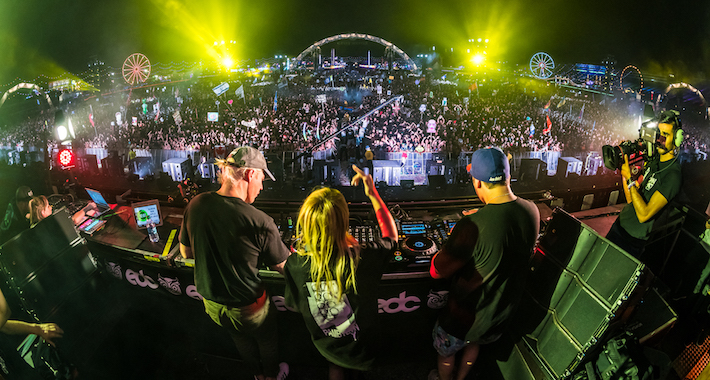 Of course, with so many other artists ramming the bassPOD stage from start to finish each night, we know we can't do justice to them all so make sure and shout out your favorite sets of the night on social media to give all those who weren't able to make it really feel the FOMO that they deserve for missing out!
By now, everyone's heard of the epic surprise appearance of Drake alongside Metro Boomin' that had the bassPOD bumping, but we have to namecheck a few of our favorite artists touching down on other stages throughout the night and spreading the bass love. Alison Wonderland not only brought her spunk to the festival but did so on multiple nights throughout the weekend with a solo appearance on the cosmicMEADOW one night followed by a b2b session with Diplo and Jauz. One of our favorite memories over the weekend is of her dropping one of her most well known tracks, "I Want U," with the whole crowd singing along.
Getter was another fan favorite this year, not only pulling a huge crowd for his set on the cosmicMEADOW but wowing them with a ton of unreleased tracks and even some tracks he's worked on with rapper Pouya, that had the whole crowd going crazy. He even brought out one of his best friends, Spock, as he played one of his unreleased tracks.
Still, one of the best non-bassPOD sets goes to that Sunday night Excision session on the circuitGROUNDS stage. While far away from the flames of the Bassrush stage, he continued to live up to his reputation as an ambassador of bass and spread the love to a crowd of headbangers that stretched as far as the eye could see. It was an epic way to cap off an epic weekend, and for those who've watched bass music continue to grow each and every year, it was a sight to behold as bass music culture overflowed the boundaries of the bassPOD and had OG fans and new-school fans alike reppin Bassrush merch, flags, and totems all across the Speedway floor as a sign of the bass music revolution still to come.