interview
The Prototypes and TC Craft a New "Species"
- Chris Muniz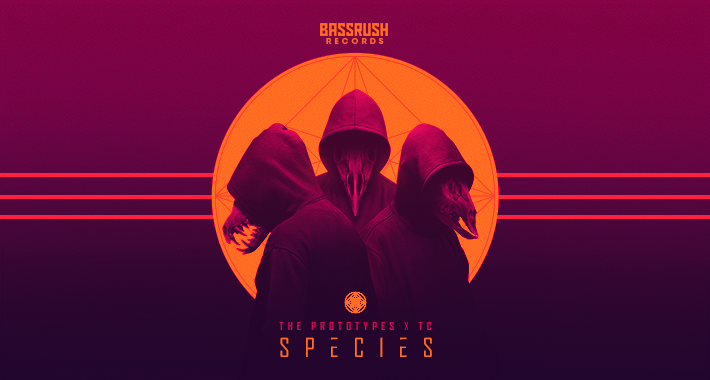 Having established itself as a bonafide heavy hitter in its own right in the bass music world, Bassrush Records prepares to level up with its latest release featuring none other than The Prototypes and TC in collab mode. A proper hands-in-the-air rinseout no doubt designed to get us hyped on their b2b set about to go down at EDCLV in a few weeks, "Species" is the kind of cut that you should expect to be hearing rinsed all summer long.
Not only is the tune the first drum & bass cut to appear on the Bassrush Records imprint, but it's also special in the sense that it's the first time The Prototypes and TC have linked up in the studio. As you can see from the following interview, the pairing was an epic one and already has the crew making plans to continue down this path in the near future.
For now, check the untethered beast known as "Species" from The Prototypes and TC below and prepare to cut loose with this exclusive glimpse into the madness the trio is preparing to bring to the bassPOD masses.
We are so stoked to be able to premiere and host this collab! Talk a bit about how this collaborative release came about and how you see the global drum & bass scene continuing to evolve and develop.
THE PROTOTYPES: We were speaking to Bassrush Records for a while about writing a single after linking up at Project Z in San Bernardino last year. With EDC coming up and us playing back to back with TC it just kind of made sense to put all these things together. We've known TC for a few years now and everybody knows what a great producer he is. We started talking towards the end of last year about working on some projects and it kind of just sprung from there.
TC: It was preordained by the bass gods. Bassrush is life. Shoutout Bassrush Massive.
The title "Species" gives it a sci-fi flair; how do you see that working itself out in the narrative of the tune? Have you had the chance to road test this one out yet? Give us a sense of how it goes down!
TC: The song is about being who you are. We are DnB so we live this shit every day! There was this intro that The Prototypes made that was so sick! They sent it over and I sculpted it into a playable dubplate for clubs for us to test and then they took about three weeks to make it like ten times sicker.
THE PROTOTYPES: It's been killing it on the road for sure.
Obviously we are mad excited for The Prototypes and TC going b2b in the bassPOD! What are you looking forward to most about playing EDC Vegas and for those who have yet to catch you guys live, what should they be expecting when you lock horns b2b on stage?
THE PROTOTYPES: We played there in 2016 and it was off the hook. We know it's gonna be even bigger and better this year so we have to come correct. You can expect a lot of new music from our label Get Hype and a load of new remixes too. It's ON.
TC: I can't wait to see all my Bassrush friends and hear that PK sound in the desert! Jurobass! I'm bringing a ton of specials, dubplates, bootlegs and all manner of destruction! I know from previous experience The Prototypes are lit.
From the b2b on stage to this epic collab in the studio, this Prototypes and TC pairing feels like the start of something big. Are there plans to start working on more things as you move forward?
THE PROTOTYPES: Oh, we are definitely writing more music together but that's all we're saying on that for now. We about to drop some fire for sure.
TC: We are Species! DnB and Jurobass supergroup!
What do you appreciate most about each other's DJ/production skills?
THE PROTOTYPES: For us TC is the ultimate party DJ. If you need to kickstart your dance TC is the man to do it. His production speaks for itself, enough said.
TC: The Prototypes are fucking sick, come on! Big tunes! Great DJ selection! Big in the game! So blessed!
Name your favorite track by your b2b partner.
THE PROTOTYPES: "Game Over" or "Jump."
TC: Their Knife Party "Lrad" remix.
If they weren't DJs/producers by profession, what do you think your b2b partner would be doing for a living instead?
THE PROTOTYPES: Professional troll or used Juro seller. Ask him about that one….
TC: Nick would be a personal trainer and Chris would be a geography teacher.
What's one thing they probably have on their hospitality rider that you're looking forward to sampling if not taking outright for yourself?
THE PROTOTYPES: If he's got some tequila we're in.
TC: I got rum, actually, but am thinking they have champagne.
What's one artist or song you like that your b2b partner has probably never heard of?
THE PROTOTYPES: Gavlyn & Blimes.
TC: Quincy "Bruce Lee MC."
If they needed a new name and you were tasked with giving them one, what would it be?
THE PROTOTYPES: JUROBASS.
TC: Nick and Chris' Magical DnB Adventure Club.