interview
'The Resonance III' is Here, So that Means Another 'Six Questions'
- Layla Marino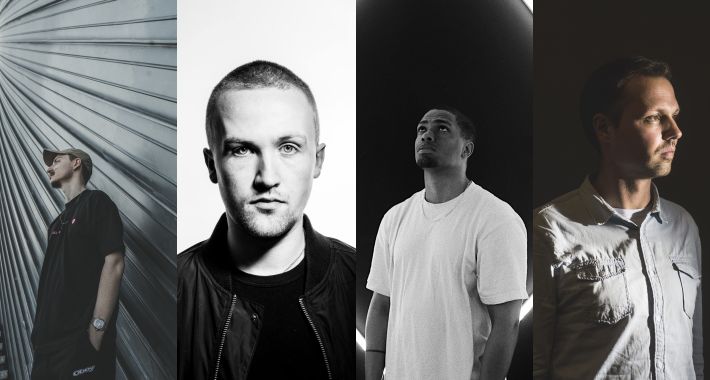 After a brief but welcome pause in the schedule to release their last album of original work together, Closer, Noisia and Vision are now back to The Resonance remix series. Dropped last Friday, July 22, the third installment of the series is a mix of classics and experiments, old and new and, of course, features an a-plus lineup of remixing artists.
With this series, Noisia have done a good job of picking remixers in the sense that they seem to be going for who can really do something interesting and different with the stems, not just who's the most popular. The Resonance III, just like the first two of the series, has some of the big names you'd expect like Halogenix, Current Value and Redpill but also a lot of wild cards like Clouds, Waeys, Rohaan, Jon Casey and Nik Roos's new project, Sleepnet. The result for this installment is likely what Noisia were going for: loads of diversity, wildly different takes on classic stems and basically a whole new set of tracks that will endear themselves to the bass world just as much as the originals.
There were just too many to choose from in terms of who Bassrush wanted to ask our "six questions," so we're doing more than ever before. Check out the perspectives and experiences of four different remixers on The Resonance III: Fre4knc, Jon Casey, Halogenix and Waeys.
How did you and the Noisia guys decide on which track you would remix?
Halogenix: It was carte blanche with regards to what I could remix so I had to really think about it. Initially I tried "Pleasure Model" (ft. Former) as I love that tune but the idea I had in my head didn't really work so I had to scrap it. Then I remembered "Leopard Slug" and I thought to myself "damn how did I forget that one!" It's one of my all time fave Noisia tunes. It's got that blend of old Virus/Kemal Rob Data but with the playful simplicity and attention to detail of Noisia.
Waeys: That was actually easier than you might think; I just asked for "Voodoo." (Laughs) I swear I did not bribe them, please believe me!
Fre4knc: They said I could pick any track. Before I could overthink, I decided to choose the first track that came into my mind which I love the most sound wise. "Running Blind" has that 90s oldskool D&B rawness, but with futuristic production techniques. I was sure I could do something with that track and make it a good remix with the "Fre4knc blender."
Jon Casey: I jumped onto the opportunity the second I could when the offer came trough to add to The Resonance remixes. They offered me the whole discography and it was a very difficult choice but "My World" featuring Giovanaca is a song I've been listening to for years, and I mean years. So in that regard, I felt it gravitated towards me relatively smoothly. I had so many ideas and I eventually landed on the bass heavy version you all can hear now.
What did you find to be the biggest challenge in remixing the track? Was there pressure because it's such an important release? Any snags with the stems?
Waeys: A little bit yeah. Obviously every remix has to be good, regardless of the track. But I guess the demands for remixing a big tune (like "Voodoo") are a bit higher maybe. I think the hardest part of making this remix is trying to do the original justice and really make it feel like a remix instead of an original track with some elements of the original in there. I feel that is something that I struggle with a lot when it comes to remixes.
Jon Casey: The biggest challenge was to find what genre I wanted to create the remix in. I was coincidentally on a video call with Chee at the time and I shot some genres at him anxiously and he just said something like, "ay man, just make it halftime." I felt that shaved some of the anxiety off because it is a genre I'm quite versed in and I banged this remix out in, give or take, a couple hours, and on a new DAW at that! I was learning Bitwig at the time and felt I'd like to do it in that.
Fre4knc: From the tech/stems end, I mainly added filth with distortion on the reese itself. The neuro stab/wobble I added is made from the original sample, but really really heavily treated to make it stand out as it does now. I changed studios twice this year (Puddingfabriek RIP) so that was a struggle already. It takes time adjust to new acoustics, which was hard on the low end, as the original reese was an octave too high to make it stompy. Stompy and heavy in the sub is important for a more minimal/punchy track.
Halogenix: I'm often bewildered when I listen to a Noisia track about how complex and technical it is and imagine their projects to be 700 layers deep. I'll spend hours pondering in the studio 'how did they do that, how did they make that sound' etc, but the reality is that it's just incredibly simple but effective sound design. I got sent a total of seven stems to work with: drums, bass, FX etc which is always a relief, as getting sent loads of files for a remix is daunting. "ike I don't need every little blip and detail. It was great to work with just the comp'd parts.
Fre4knc, This is technically your first release on Vision, even though you've worked with Noisia in the past on Invisible releases. How is it different this time, especially doing a remix for basically the Noisia End of Days?
For me it feels kind of similar, as Invisible was merged into Vision. It's always a highlight as the label team is very open and professional. I was hoping they would ask me for a remix, and after they did I did my best to make it a special one, as a Noisia remix should be special. In my opinion, remixes in general should be similar or better qualitywise. What's the point of releasing a remix which is less good or less interesting? Luckily the first feedback from Thijs was, "yo that running blind remix is fire. Nailed it." which made me a happy man. It simply is special to hear that from the level of Noisia.
Jon Casey, You've done a remix before on Vision with the Upbeats, the experience doing an actual Noisia remix must have been a bit different How was it working with the stems and the guys?
The experience, pre-remix that is, was all the same as this one. Smooth, safe and fun. I felt I had a lot of creative freedom and that helped so much. I was in contact with Nik the most. He gave probably only one or two little tips. The only difference was the having it actually being Noisia I was working with, I felt a lot of pressure and I looked at the stems as "gold," as funny as that sounds. Thank you to the Vision team.
Halogenix, You also worked with Noisia in a collab track on their all-original Closer album this year. How is it different working with them on a collab versus a remix? Must have been interesting working on both at once.
Absolutely mad that I got to work with them on two huge projects at the same time. Pinch me.
I guess like any collaboration, the goal should always be about how to get the best idea possible that everyone is happy with. Going back and forth with the guys on "Wordless" was such a joy because it was always like, "ok is this an improvement, is everyone onboard with this or that?" A true collaboration.
With the remix, in general, I find I usually think, "can I improve on this idea or switch it up in an unexpected way and really show off my skills?" With this though, I don't think I took the "Leopard Slug" remix in a particularly new or innovative direction. I did try a full on Jungle remix which sounded okay, but I don't think it would have landed the same as the minimal one I ended up with.
Waeys, this is your first release on Vision, though hopefully not the last. Why do you think the guys reached out to you for this remix?
I've been in contact with the guys before about doing a Vision release, but it hasn't happened till this day. I think doing this remix was the perfect entry point.
What did you each want to do in your remixes to make them your own? What aspects of the original did you want to keep and how did you work them into the new track?
Fre4knc: Plan A was to make a minimal version actually. After puzzling around for a while I made those pauses in the bassline and I loved that. It actually made it sound more aggressive so the minimal mission wasn't accomplished. Nothing wrong with that though. Main goal was to respect the original and keep its soul alive. Aside from that, I wanted it to be a proper remix, instead of just changing a beat and adding like one sample.
Halogenix: It's not like any old remix; it's a Noisia tune. There's no one and won't ever be anyone like Noisia (try as they might) so going into it with the mindset "how can I make this better," as I said, wasn't gonna fly. I just wanted to make it feel as much like me as I could whilst retaining all the swagger from the OG. I don't think I made it better, I just made it a bit different, and that's cool.
Waeys: The most obvious element to "Voodoo" was that lead percussive kinda sound that goes on throughout the track, but also the intro is so characteristic that I felt like I should keep most of it intact. As for putting my stamp on it, I wanted to give it a rolling minimal spin with some classic Waeys honks, so that's just what I did. This also required me to make the tempo a lot faster as the original is like 140bpm.
Jon Casey: I wanted to provide my own sense of swing and grunge into "My World," which I was really excited to get to work on. I also wanted to keep aspects of the song to pay homage to the original and have it switch up in an unexpected and epic way. Almost like taking the audience on a journey.
What's coming up next for each of you release-or-tour-wise?
Halogenix: (I'm hoping to keep releasing re-worked classics with my "Edit" charity reworks of classic tunes of all genres). I work loads with samples and it's not always easy to clear them (sort it out majors) so tracks I end up writing with obvious or hard to clear samples I'll just compile into little EPs
Beyond that I've actually got some pretty exciting news I'll be announcing soon, stay tuned!
Jon Casey: I'm working on a bunch of singles for different labels but I am also in the last stretch of a DnB/halftime EP with the Vision team which I am really excited for people to hear. I'm also playing tons of shows all over the United States so whoever would like to catch me live, they're more than likely to in the next couple of months.
Waeys: As long as inspiration keeps flowing there's no reason for me to take a break, but I'm sure there will be times where that might happen, and I will slow down a bit. I have been teasing this a bit now, but I've got an album coming with some new flavors in there that people have not heard from me yet. Other than that you can expect some classic Waeys antics on your favorite labels!
Fre4knc: I've been quite busy with rebuilding my house which took a lot of time. Next to that and the studio changes, this remix took me a while. I have one track forthcoming on an Australian label and that's about it. I just came back from holiday and have many gigs now, so I should plan something soon. Probably another Flexout EP? Still, it's always quality over quantity for me.
You all have different experiences working with Noisia. What do each of you think fans should know from your experience and as they close this chapter?
Halogenix:They're obviously known for being Drum & Bass royalty but their reach and influence is incredibly understated. In my opinion they're up there amongst some of the most influential electronic music acts of all time.
Also fun fact. 'Wordless' wasn't our first collaboration; 'Possession' was written by Thijs and I back in 2016 when I was working under a different alias.
Fre4knc: I remember one of their first bigger gigs in Groningen, where playing with CDs was newish. As I had been DJing longer than them, they asked me what I thought of their set, and I replied, "yeah, was alright. 6.5 out of 10." Hilarious if you think about it now.
That's one thing but I'll add more: They are three totally different individuals, and that's probably a source of the Noisia success. I think Martijn also could have been a stand-up comedian
What is special is that they are very helpful if you deliver. You don't see that helpfulness a lot and it inspired me to do the same.
Jon Casey: Noisia's final chapter is absolutely bittersweet. It's bitter because we have one of the greatest electronic trios going their own way. Sweet because we live in a time where we were able to witness it happen. They've revolutionized drum & bass for both listeners and producers. They've inspired many and sparked love in audiences all over the world as well. This Resonance series is honestly a brilliant idea for their works to echo on and stretch out the glory that is and was Noisia. Apart from that, I am ecstatic to see what the Vision imprint will revolutionize further in the future of electronic music.
The Resonance III is out now on Vision to stream on Spotify and purchase on Beatport or their website.